Sub content
Grounds of research into quality of air inside newly-built cars
We have formulated advisory guidelines regarding 6 types of substances detrimental to human body to safeguard the health of motor vehicle users from detrimental substances stemming from interior materials inside newly-built cars.
Based on Item N°3, Article N°33(Maintenance of the quality of air inside newly-built cars) of the ordinance of motor vehicle Maintenance Act, with respect to the new-model motor vehicles launched every year, we are surveying whether the guidelines for the quality of air inside newly-built cars are being followed.
Procedures of measuring the quality of air inside newly-built cars
To give you a brief overview of the procedures of survey, after the purchase has been made, you should keep the subject indoors so as to protect the car, which is to be measured, from external environment such as dust, direct sunlight, etc.
Later on, the calibration must be executed between 14 to 28 days since the day of manufacture.
When being measured, after the car is stabilized inside the laboratory which consistently keeps the surrounding temperature at 25℃, the air sample inside the car must be collected, the componential analysis must be conducted and the whether the guidelines were observed must be verified.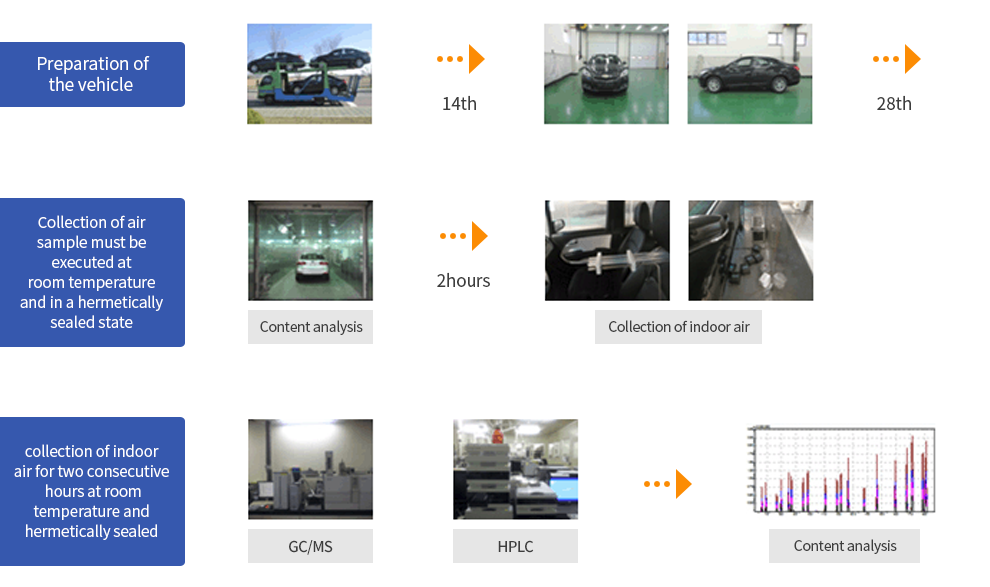 Results of improvement of quality of air inside newly-built cars
motor vehicle manufacturers employ materials low in detrimental material content when designing and manufacturing motor vehicles with an end to meet the government guidelines and, contribute to the protection of consumers' health through 1)offering information on indoor air quality at the point of purchase and 2)improving indoor environment of motor vehicles.
Instances of improvement in quality of air inside new cars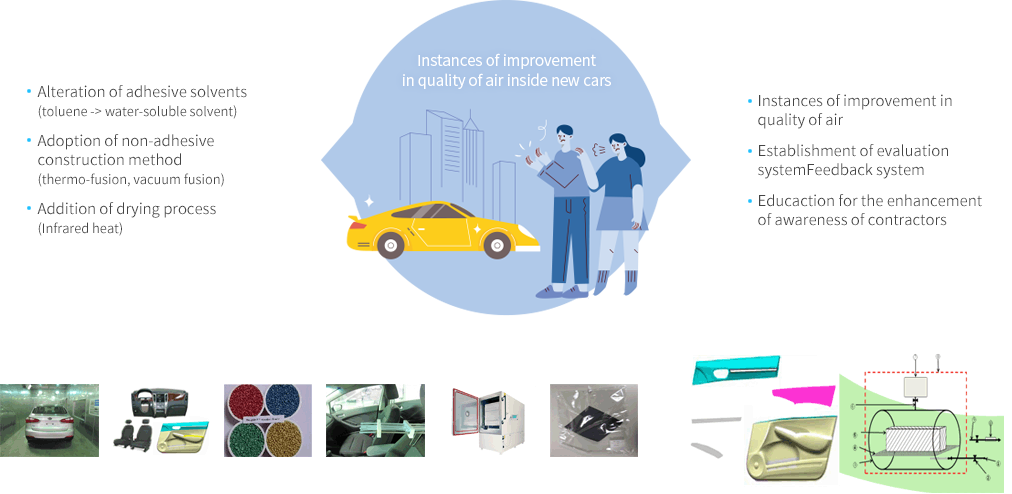 Evaluation test on actual car


Confirmation of whether the maintenance standards have been
Survey of principal pollutants
Evaluation test of components by units


Construction of evaluative method of VOC of unit modules
VOC database(15 modules)
Evaluative test of raw materials and materials
Establishment of characteristics of raw materials(about 1,000 or so components)
Development of eco-friendly materials